Get Nostalgic with the Oregon Trail running in this Mac OS8 simulation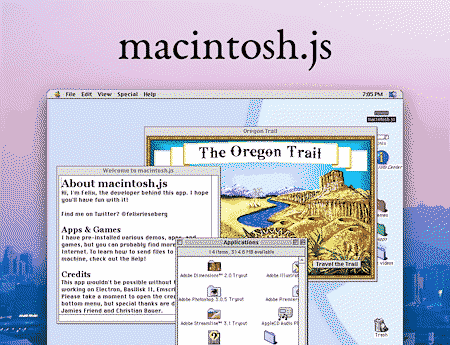 That's right, we've officially gone too far, developer Felix Rieseberg has ported Mac OS8 (with some help) into an Electron App that you can download and run on your Mac, or PC.
The JavaScript OS implementation is amazingly complete, running a plethora of the old apps and games that you undoubtedly remember from back in the day, many of them pre-installed!
You'll find various games and demos preinstalled, thanks to an old MacWorld Demo CD from 1997. Namely, Oregon Trail, Duke Nukem 3D, Civilization II, Alley 19 Bowling, Damage Incorporated, and Dungeons & Dragons.
If these games aren't enough for you, you can jump through a couple of hoops and install your own. Honestly, I've found that this runs profoundly well, and is well worth checking out, or just noodling around with on a long flight.
If you're interested in digging into the emulation side of things, Macintosh.js is running off Basilisk II, an open-source Mac Simulator, which honestly, looking at the code makes very little sense to me, it's honestly an engineering marvel from my perspective!