A scary fright in your developer console!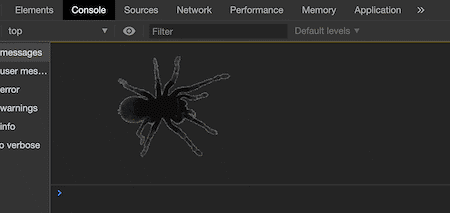 I know its there to catch the bugs, but nope, nope nope.
The self-proclaimed buggiest site on the web really takes the cake with this scary console-based beast (use CMD + OPT + I on Mac, or CTRL + SHIFT + I on Windows to open the console!)
The web pages create Chris Johnson has taken advantage of a few neat little console tricks, namely the ability to add CSS to your own console commands. He's also very generously provided a neat js library aptly named consoleimg that lets you add your very own.
Chris is no stranger to creativity in strange places… including creating a game of pong that runs within the layers tool in the console as well!
Move over Dino Game! I've built a playable game of Pong inside @ChromeDevTools.https://t.co/RYBMWfK6Yt pic.twitter.com/Z4gvavMB2R

— Chris Johnson (@defaced) May 12, 2020
Be sure to follow Chris (@defaced) for any new updates in the console code space!